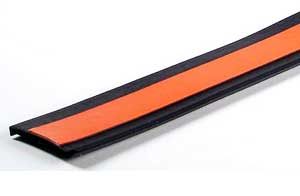 Almost all vehicles – and various industrial containers – are sheathed in plastic trim or ornamentation. Most of this trim is actually quite functional. The plastic panel running down the centerline of the outside of your car door has been integrated into the vehicle's styling, but it also prevents quite a few dings and dents. Spoilers improve a vehicle's aerodynamics and therefore, have been integrated into the styling package. Spoilers are part of most vehicles' safety lighting system: rear spoilers almost always contain the 'brake applied' warning light.
Body fascia seals to tightly attach appliqués and prevent unwanted noise
Many body fascia and spoiler systems require seals to assure that these appliqués fit tightly to the side of the vehicle. A loose fit will usually result in an unwanted noise or whistle: a consequence that must be designed away.
In the arena of body fascia seals, thermoplastic elastomers are developing a commanding position owing to the fact that, in many cases, the seal is not seen and is therefore, not exposed to UV light. EPDM seals strike a tempting alternative and are in many cases, the material of choice.
Applies to body fascia seals designed by Mantaline
Markets
Automotive Tier 1
Heavy Truck OEM
Processes
Extrusion/Dense Foam
Cutting/Taping
Notching/Drilling
Coating
Splicing/Molding