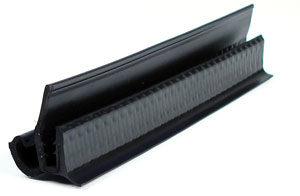 If you look under the hood of a vehicle you will find myriad sealing applications. Across the top of the grill – outboard of the fan – is usually a grill seal. At the other side of the engine compartment – nestled under the windshield wipers – is the cowl seal, the hood-to-cowl seal, or the leaf tray seal. These seals protect this end of the compartment from the dust and debris that can fall from the windshield into the engine compartment.
Under hood seals to reduce noise, dust, debris and to isolate components
There are seals in the air filter at the end of the air duct, seals that isolate engine components from making noise if they vibrate, and seals that isolate rubber, steel and plastic tubes as they wind their way to and from the engine.
Most of the under hood seals are far enough away from the engine to permit them to be rendered in EPDM. Thermoplastics do not live well in the hot conditions under the hood, even as far away as the grill area.
Markets
Automotive Tier 1
Heavy Truck OEM
Construction Equipment
Off-Road Vehicles
Recreational Vehicles
Agricultural
Processes
Extrusion/Dense Foam
Metal Carriers & Solid Core
Cutting/Taping
Notching/Drilling
Coating
Printing