Deliver – Business Systems
EDI
System to increase efficiency and cost savings
Electronic Data Interchange (EDI) is the structured transmission of data between organizations by electronic means. Increased efficiency and cost savings drive the adoption of EDI for most of our trading partners.
Manufacturing Scheduling
Scheduling activity is customer-driven
Turning all the incoming customer demand data into a coherent schedule is a challenging set of tasks. We rely on customer provided 'manufacturing windows: firm and forecast' to guide the process. Everything in the scheduling activity is customer-driven which puts the responsibility on our customers to know what they want, when they want it: we take it from there.
Manufacturing Execution
Mantaline delivers the product you need, when you need it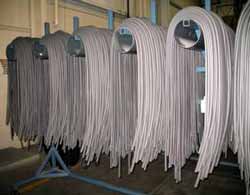 When your unique solution reaches the production stage, you can rest assured your final product will meet or exceed your expectations. Mantaline's production facilities house state-of-the-art extrusion and molding equipment along with myriad finishing processes to get the job done right with maximum efficiency. Because the manufacturing processes are a major consideration during the design and development stages of your product, you can count on Mantaline to produce it correctly. Our goal is to get you the product you need, when you need it. We have organized our precision manufacturing capabilities, applied our diverse industry experience and solid engineering expertise with extensive testing to achieve our goal.
Logistics
USA, Canada, Mexico: packaging to meet customer's requirement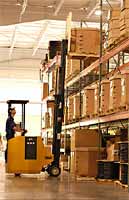 We handle, store, process and protect your product to ensure that it remains undamaged and does not deteriorate during internal processing and while in route to our customers. Our logistics team chooses packaging that conforms to customer limitations and constraints, while assuring sufficient material to run the business.
In many cases, returnable packaging can be deployed with great savings to our customer and thus contribute to our own Green Initiatives. Many of our customers provide very narrow 'delivery windows' in which our products must arrive. Our logistics team is skilled at meeting these types of customer targets inside the USA, Canada or Mexico.
Inventory Management
Well-managed, finished goods inventory JIT to you
Fortunately, 'mixed rubber' stock, which feeds on extrusion lines and molding presses, has a finite shelf life. Therefore, we never 'sit' on raw material. In addition, we are relentless about moving Work-In-Process (WIP) through the plant.
Costing
Understanding our costs
Understanding our costs is the driver for a number of activities. The estimating and quotation process relies heavily on correct costs. The VA/VE process depends on correct costs in order to measure the true effect of change and improvement activities. Our customers expect detailed breakdowns by cost center and activity; we take the idea of costing very seriously. Fortunately, our manufacturing, purchasing, logistics, inventory and accounting systems all tie into an Enterprise Resource Management (ERP).
Billing
Accurate and timely billing
The accuracy and timeliness of billing is a quality performance attribute that we measure. It is the type of function that we have found to be highly susceptible to kaizen-type activities aimed at performance improvement. We realize that the cost and aggravation of chasing an errant invoice is just as expensive as chasing an off-standard part.