Define – Customer Interface
Concept Development
Refine existing ideas into workable new solutions
Whether you're refining an existing idea or creating a new concept from scratch, we can support you. Our engineers know how to refine existing ideas into workable new solutions with minimum fuss.
Create new designs
Mantaline's investment in the latest software allows our engineers to perform computer design, Finite Element Analysis, 3D Modeling and more.
Easy and secure communication
Our computer systems are able to communicate with almost every other CAD system in use today in order to facilitate the transfer of technical documentation. Our FTP site permits secure file sharing with customers.
Verification
Using state-of-the-art testing systems, Mantaline verifies that the product will meet your specifications. Mantaline typically performs tests for material properties such as tensile strength and compression set, as well as design properties such as insertion-extraction, compression-load deflection, coefficients of friction and dimensional analysis.
Material Design & Development
Designed to defeat the environmental challenges your application faces
Mantaline's staff of experienced engineers works with you to develop your application; we see everything as a unique problem. Therefore, when we are called upon to design a compound that can perform to an unusual set of criteria, don't be surprised when we blend our experiences into a compound designed to defeat the environmental challenges your application faces.
Engineering Estimates
'Knowns' + 'yet to be defined' = engineering cost estimates
Concepts and materials come together in the early stages of a project in order to estimate what direction a project will likely take and what specific options may cost. There are usually too many undefined issues to attempt a formal quotation, such as assembly and other fit-up issues, but there is enough information to provide directional numbers. Our team knows how to work with you and your customer in order to define the 'knowns', list the 'yet to be defined' and provide engineering cost estimates.
Prototypes
Product integrates well into a customer assembly
Rapidly building inexpensive 'pre-production' parts (emblematic of what will be used in production and useful enough for 'fit-ups' and durability testing) is an essential aspect of bringing a project forward. This important step gives the design team an opportunity to deal with assembly and other 'fit-for-use' issues. We are skilled at working to see that our product integrates well into a customer assembly.
Product Design
Turning information into a well-founded design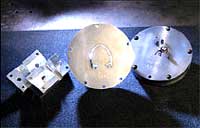 A well-ordered design protocol assembles all the data garnered from the pre-production build phase; or in some instances, our customer's last generation product, and projects that form into a well-founded design for a production seal or sealing system. Our applications and design engineers join ranks in producing designs that 'work well in the software' and pass the rule of reason when placed in front of some of the toughest critics in the industry: our own applications experts!
Quotation
Well-defined and efficient set of production processes reflect hard costs
Quotations integrate customer defined requirements as well as statutory, regulatory and any other criteria into a well-ordered process that results in a well-defined and efficient set of production processes that reflect hard costs. Many of our customers ask for and receive complex cost center breakdowns, which subdivide processes into their steps down to each action and the seconds that it takes to execute it.
Contract Administration
Keeping track with centralized ERP
Contract administration is an important internal set of processes: is a project on time? On budget? Is the customer satisfied? Are hurdles being overcome? Keeping track of where programs are and how they are progressing is driven by our Business Development team and recorded within our ERP system which issues prompts and directives aimed at keeping us on track and serving the interests of our customers efficiently.
Process Development
How will we make this efficiently? Effectively?
How we will make a product efficiently and effectively is of utmost importance during the development process. We think about the operators and the challenges they will face – every day, all day – and work to relieve their stress enabling them to focus on the essentials: how to deliver a good part with every part they touch. Work flow, simple job instructions, poke-yoke tools and aids are all taken into consideration early in the development process.
Program Management
On-time and on-budget
We meet project milestones and our launch-partner expectations because we focus on the need to do so; it is just that simple and that complex. Our Program Managers are assigned projects based on skills and experience; they take ownership for Mantaline's performance. Because we invest in leadership, our customers can and do expect us to be on-time and on-budget; we invariably, are both.