Static window: an opening in a vehicle or container for letting in light or for looking through; usually having a pane or panes of glass (acrylic plastic, polycarbonates) that remain stationary.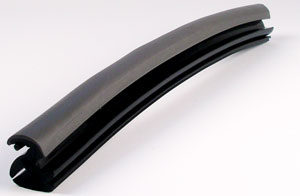 Static windows seals to secure windshields and truck rear windows
In static applications, the glass is hung or installed in a position and it does not move. The window seals are made of EPDM, Neoprene or a urethane resin.
Static applications include side windows of buses and recreational vehicles; windshields; truck rear windows; and side, door and rear windows of off-road vehicles.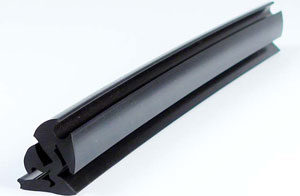 Static window seals as a safety device
Just like air bags and seat belts, an automotive windshield is a safety device. Auto glass is installed using an automotive grade urethane. An adhesive creates a bond between the vehicle and the glass. If this adhesive bond loses its integrity along any point of the glass, the air bag will lose some of its effectiveness as well as impact the structural integrity of the roof.
The most common solution to a sealing problem in nonurethane resin applications: use a single extruded seal 'spliced' into a loop.
Markets
Automotive Tier 1
Heavy Truck OEM
Construction Equipment
Off-Road Vehicles
Recreational Vehicles
Medical
Rail/Bus
Agricultural
Processes
Extrusion/Dense Foam
Metal Carriers & Solid Core
Cutting/Taping
Coating
Printing
Splicing/Molding
Flocking